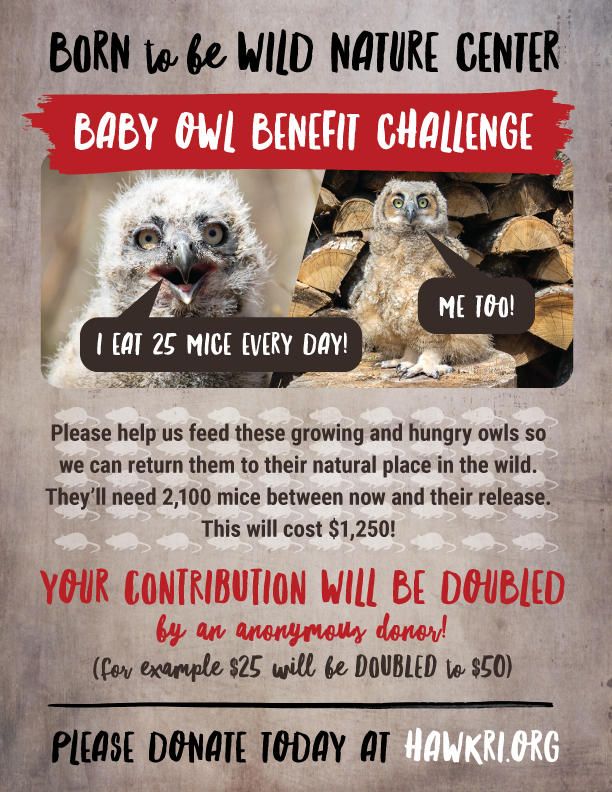 BABY OWL BENEFIT CHALLENGE!
We are caring for two nestling Great Horned Owls, who each eat 25 mice every day! An anonymous donor has offered to match any monetary donation toward their care, between now and the day they are both released. The older owlet is 5 weeks old and will be ready to fledge in about 3-4 weeks. Once flying, he will be reunited with his owl family in Westerly, R.I. The younger & smaller owlet is 3 weeks of age and will be ready to fledge in approx. 5-6 weeks. She came from Barrington, R.I. and once she is demonstrating adequate flight, she will be reunited with her owl family.
Please help us feed these growing and hungry owls so that we can return them to their natural place in the wild. They'll need 2,100 mice between now and their release. This will cost $1,250!
Donate Online
Donate By Mail
You can mail a check to: Born To Be Wild Nature Center
45 Vars Lane, Bradford R.I. 02808
---
Since opening our doors in 1998, Born to Be Wild Nature Center has been dedicated to the rehabilitation of sick, injured and orphaned wild animals. Our goal in treating these animals is to return them to their natural habitats — giving them a second chance at life.

Born to Be Wild's environmental educational programs have reached thousands of children and adults, promoting an appreciation of wild animals and the habitats they require to survive. It is our hope to connect people with the natural world.

By understanding the important role each and every member of the ecosystem plays, we can help preserve essential habitats and sustain Rhode Island's precious biodiversity.